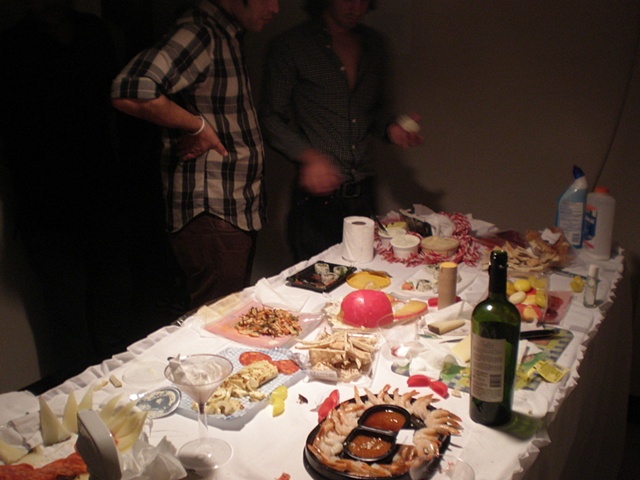 Coctél con Fianza,
Happening- Installation presented in
The Museum of Natural Mysteries (Curated by Michele Fiedler)

2009
'Coctél con Fianza' was a happening installation presented at the Museum of Natural Mysteries, which addressed the subject of trust based on it as a mystery or an act of blind faith. 'Coctél con Fianza' forced the public to accept food from a stranger in questionable circumstances, those circumstances were created to reinforce the fact that we t-r-u-s-t by necessity, in order to fulfill a desire or a instinct like "eating" everyday.
Note: this piece also emerged as a celebration because that night was the opening of the Museum of Natural Mysteries.
--
Una invitación inusual a tener
esa seguridad,
esa esperanza,
esa determinación,
esa certidumbre;
ese saber que podemos creer,
en algo o en alguien.
La Confianza es un MISTERIO, ya que no se limita al tiempo y al espacio de la historia humana, sino que es capaz de romper estos parámetros y fronteras geográficas llevando a las personas a trascenderse, más allá de lo que son capaces, creando una auténtica confianza (amistad, acto de fe o buena voluntad) entre hombres y mujeres de toda raza, lengua, pueblo y nación.
La confianza es la creencia en que una persona o grupo será capaz y deseará actuar de manera adecuada en una determinada situación y pensamientos. La confianza se verá más o menos reforzada en función de las acciones.
Se puede percibir la confianza como una hipótesis sobre la conducta futura del otro. Ya que es una actitud que concierne el futuro, en la medida en que este futuro depende de la acción de un otro. Es una especie de apuesta que consiste en no inquietarse del no-control del otro y del tiempo.