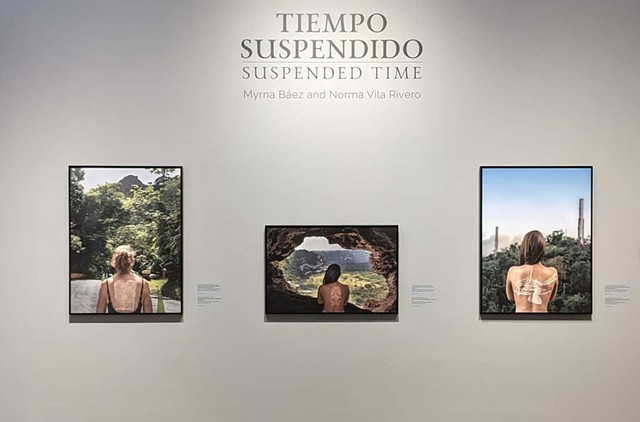 NEWS!!!
Current Exhibitions
TIEMPO SUSPENDIDO:MYRNA BÁEZ AND NORMA VILA RIVERO at The Jordan Schnitzer Museum of Art, University of Oregon.Curated by Cheryl Hartup. On view from August 14, 2021 to January 01, 2022
Norma Vila Rivero (San Juan, Puerto Rico) Interdisciplinary artist, exhibit coordinator, and cultural manager. She received a B.A. in Visual Arts from Universidad del Sagrado Corazón (2005) and a M.A. in Art Administration from Ana G. Méndez, Universidad del Turabo (2010). Her work has been presented in Argentina, Dominican Republic, Ecuador, Mallorca, Mexico, Norway, Peru, Puerto Rico, Switzerland, Saint Croix, and several states in the U.S. In 2017, she was selected to participate in the Occupy Museums Debt Fair installation at the Whitney Biennial. In 2020, she received a National Association of Latino Arts and Cultures Artist Grant to continue her project "A Metaphor Against Oblivion." Vila Rivero's work is in the Luciano Benetton Collection, the collections of Museo de Arte de Puerto Rico (San Juan, PR), Museum and Center for Humanistic Studies Dra. Josefina Camacho de la Nuez (Universidad del Turabo, Caguas, PR), and FIART Foundation (International Foundation Fund for the Arts, Madrid, Spain), and numerous private collections.
Past Exhibitions
2020
TODXS: Colección José Hernández Castrodad, MADMI Museo, Miramar, P.R | Curated by Dianne Bras Feliciano.
Aquí no pasa nada, curated by Jason Mena, La Embajada, México.
Archivos, Visiones y Premoniciones, curated by Georgie Vega, Taller Boricua, New York.
Acervo, Historia y Futuro: Museo de Arte de Caguas, curated by Elsa Meléndez, MUAC-Museo de Arte de Caguas, P.R.
Anarquía y dialéctica en el deseo: géneros y marginalidad en Puerto Rico, Parte I, curated by Raquel Torres Arzola, Museo de Arte Contemporáneo de Puerto Rico, Santurce, P.R. (Nov 2019- June 2020)
2019
A Metaphor Against Oblivion, The Franklin Outdoor, Chicago, USA. Curated by Edra Soto. June 14 until July 11, 2019.
Repensar la Ciudad: Colección Iris y José Hernández Castrodad, curated by Dianne Bras Feliciano presented at Museo de la Universidad Ana G. Méndez - Recinto de Gurabo. Marzo 2 - Junio 28, 2019.
Una metáfora contra el olvido, PÚBLICA Espacio, Ave.Ponce de León, Santurce, Puerto Rico. Feb 8 - Mayo 8, 2019.
Waiting for the Garden of Eden, curated by Juan Puntes & Raúl Zamudio presented at WHITE BOX GALLERY, New York. March 30 - April 31, 2019
|Past Curated Projects by Norma Vila|
-Edición 25/25 at Galería de Arte USC (Feb - June, 2020)
-Confrontación/Contemplación (March 31 - June 4, 2017 MECA Art Fair) a collaboration between ÁREA and El Cuadrado Gris.
-
Visit also
www.uprising-art.com/portfolio/norma-vi…
www.normavilarivero.carbonmade.com
www.artslant.com/global/artists/show/27…
pinterest.com/norart/my-artworks/